Compte tenu des événements actuels, nous vous invitons à nous contacter par email pour toute demande. Nous répondrons dans les meilleurs délais. Dans l'attente du plaisir de vous recevoir à nouveau,
Aneta, paris@lesnocesdejeannette.com
Due to the present situation, for any question, please contact us by email, we will answer as quickly as possible. We look forward to welcome you again soon.
Aneta, paris@lesnocesdejeannette.com
Les Noces de Jeannette, the perfect restaurant for hosting your celebrations near the opera!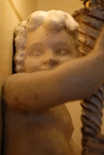 Les Noces de Jeannette is a restaurant with more than a century of history behind it. Inside, the décor evokes the story of Opéra Comique and Paris's iconic Grands Boulevards. With its five rooms, Les Noces de Jeannette can host business lunches, romantic meals for two or family dinners, as well as private, family and professional events. The restaurant offers traditional French cuisine made with local products and an impressive selection of wines from independent winemakers. Located in Paris's 2nd district, or 2e arrondissement, the restaurant is open every day for lunch and dinner.
A central location just a moment's walk from Opéra Garnier
Les Noces de Jeannette boasts a privileged location in the centre of Paris in front of the Opéra Comique, on the corner of the Grands Boulevards and nearby to the Opéra Garnier.
A menu inspired by local products and wines from independent winemakers
The restaurant strives to offer unpretentious French cuisine made from top-quality products. The menu is a 'tour de France' of regional delicacies that uphold the traditions of the French regions, local classic for diners who are nostalgic for the days gone by and, of course, some iconic French dishes. The menu is complemented by a carefully selected range of wines from the best independent wine makes from each denomination.
Take a look at our menu, set menus and wine list!
A centennial restaurant
In the 19th century, the restaurant was originally known as Poccardi. It then took the name of 'Les Noces de Jeannette' ['Jeannette's Wedding'] after a one-act opéra comique by Victor Massé, which premiered in 1853. The opera was performed as a curtain raiser hundreds of times in the Salle Favart, just across the road.
Five rooms ensure the privacy of any private or professional event
Are you looking for an inviting and original location to hold a special event? Les Noces de Jeannette welcomes you to consider one of its private rooms for your professional, family or personal meetings and events. Depending on the number of guests, you can choose to use various rooms and benefit from a personalised service.