Right in the heart of an area steeped in history
Our restaurant, Les Noces de Jeannette, is located right in the centre of Paris on the Grands Boulevards and is nearby to some of the capital's most famous monuments, theatres, galleries...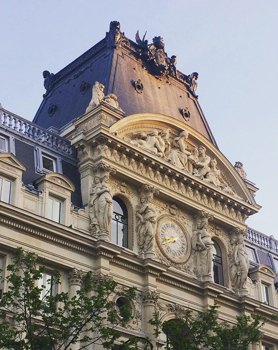 The Grands Boulevards are associated with a spirit of strolling about and enjoying entertainment, which is manifested by the numerous theatres in the area. It was also on The Grands Boulevards that the first public cinema showing was held.
The famous theatres of the Grands Boulevards are located less than 10 minutes away by foot from Les Noces de Jeannette:
Théâtre des Variétés (7 boulevard Montmartre, 360 metres away)
Théâtre de la Michodière (4 bis rue de la Michodière, 470 metres away)
Théâtre Bouffes Parisiens (4 rue Monsigny, 480 metres away)
Théâtre La Pépinière (7 rue Louis le Grand, 700 metres away)
Théâtre Daunou (7 rue Daunou, 700 metres away)
Comédie des boulevards (39 rue du Sentier, 780 metres away)
At the same time as the boulevards were built, so too were the Covered Passages and Galleries, offering a welcome respite from the dust and dirt outside. A large number of famous passages and galleries are within ten minutes' walk from Les Noces de Jeannette: Passage des Princes (150 metres away), Passage des Panoramas (350 metres away), Passage Jouffroy (400 metres away), Passage Choiseul (490 metres away), Passage Verdeau (500 metres away) and Galerie Vivienne et Colbert (670 metres away, 10 minutes by foot).
---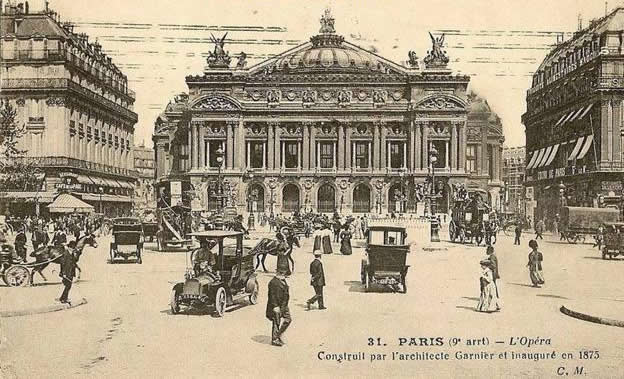 The Opéra Garnier
Just 500 metres away from the Opéra Comique and Les Noces de Jeannette is the Opéra Garnier, or Palais Garnier, which was designed by the architect Charles Garnier after he won a competition to design it. Its construction, decided upon by Napoleon III as part of a transformation of Paris carried out by the prefect Haussmann and interrupted by the war in 1870, was resumed at the beginning of the French Third Republic. The building was inaugurated on 5 January 1875, by the President of France, Mac Mahon.
With its eclectic inspiration, the monument, designed by Charles Garnier, was marked by a taste for stately architecture and an attraction to Baroque art. It has become one of the most iconic examples of the style that was prevalent during the period of Napoleon III, which was inspired by Italian palaces and the late Renaissance.
The Opéra National de Paris is one of the most important lyrical and choreographic stages in the world.
---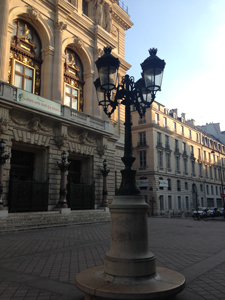 Other famous places nearby...
The Paris Bourse, or Palais Brongniart (28 place de la Bourse, 350 metres away), the old National Library (58 rue de Richelieu, 450 metres away), the Notre Dame des Victoires Basilica (Place des Petits Pères, 800 metres away)…
As well as the department stores, Printemps and Galeries Lafayette, are located just 10 minutes' walk away from Les Noces de Jeannette.
Finally, Les Noces de Jeannette can also be used as a starting point for a walk in the footsteps of famous people who have lived in the area:
Between 1822 and 1823, Stendhal lived at No. 61 rue de Richelieu. He also wrote 'Les promenades dans Rome' and 'The Red and the Black' at No. 69 of the same street.
Emile Zola was born at No. 10 rue Saint-Joseph on 2 April 1840.
In 1860, at No. 35 boulevard des Capucines, Nadar (Félix Tournachon) established his famous photography studio. A journalist, caricaturist, writer and balloonist, he photographed the celebrities of the period and also conceived numerous air navigation projects. His illuminated sign was created by Antoine Lumière. It was here that he hosted the Impressionists' first exhibition in 1874.
Jean Jaurès was assassinated at 144 rue Montmartre on 31 July 1914.
On 27 July 1824, Alexandre Dumas, fils, was born at 1 place Boïeldieu.
Frédéric Chopin lived at 27 boulevard Poissonnière between 1831-1832.
On 2 February 1826, Jean Anthelme Brillat-Savarin, author of 'The Physiology of Taste', died in the house located at 11 rue des Filles-Saint-Thomas.